"Betrayers of Babylon" spielen Beats for Mozambique
von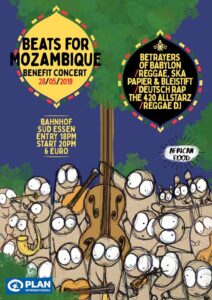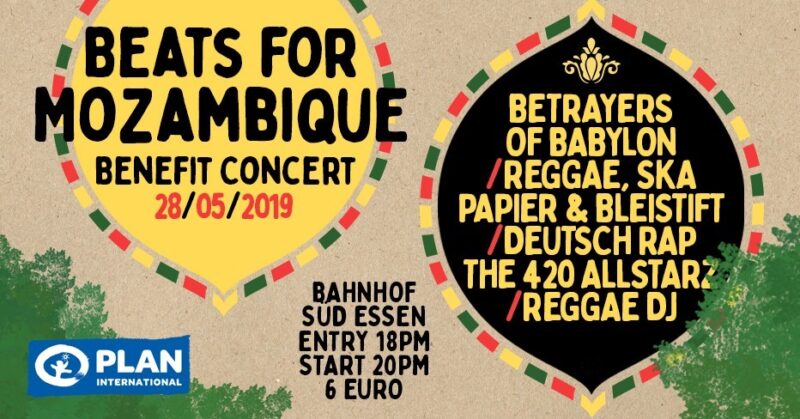 Mit "Beats for Mozambique" findet am Dienstag den 28.05.2019 im Bahnhof Süd in Essen ein tanzbares Benefizkonzert zugunsten der Nothilfe von Plan International statt. Die Ska, Reggae, Offbeat Mashup Musiker von Betrayers of Babylon, laden ein "das Gesäß zu swingen", anschließend gibt es deutschen Rap der Crew von Papier&Bleistift der auch mal zum Nachdenken anregt. Nach den Konzerten belegt The 420 All Starz Muzik Group die Plattenteller mit Reggae, Dub, Soul und Hip Hop, so dass der Abend sicher nicht zu gemütlich ausklingt!
Alle Einnahmen werden an die Menschen in Mosambik gespendet, die gerade unter den verheerenden Folgen der Überschwemmungen leiden. Plan International leistet Nothilfe in Mosambik, wo der Zyklon "Idai" am 15. März mit Windböen bis zu 160 Stundenkilometern auf die afrikanische Küste getroffen war. Wir versorgen die Menschen mit Nahrungsmitteln, Trinkwasser, Decken, Matratzen und Hygieneartikeln und stellen Notunterkünfte bereit.
Die dringende Unterstützung, die das Land braucht, leistet auch die AG Essen mit der Organisation dieses tollen musikalischen Abends. Ein familienfreundlicher Einstieg beginnt um 18:00 Uhr, das Konzert um 20:00 Uhr. Die AG ist mit Getränken, einem Gericht aus dem Plan-Kochbuch, Plan-Glücksrad und Info-Stand beteiligt.
Wir freuen uns sehr, die Betrayers of Babylon, Papier&Bleistift und The 420 All Starz Muzik Group begrüßen zu können! Und natürlich heißt es auch: herzlich Willkommen, liebe Gäste! Der Eintritt beträgt 6 €, oder gerne mehr. Für weitere Informationen kontaktieren Sie bitte die AG Essen.
Betrayers of Babylon (Offbeat Mashup):
Papier&Bleistift (Hip Hop):